Gentle Therapies
To Unfurl Your Natural Resources
Intimate Workshops
Personalised Group Settings
One - To - One
Personal Online Sessions
An invitation to join a women's circle
Thursday evenings throughout October and November 2022
FIND OUT MORE...
I invite you to open your heart, trust in intuition, and follow the calling. My space is here, ready to welcome you.
Offering gentle therapies that tap into intuition and empower each soul to discover purpose and meaning in daily life and gain deeper understanding of our innermost multifaceted nature.
Honouring a sense of well-being to connect, explore and heal all aspects of the Self; emotionally, mentally, physically and spiritually.
Through guidance of group and individual workshops, one to one coaching, considering a movement practice and appreciating creativity through visual expression, there is a world to be shared together, bridging inner landscapes with outer landscapes.
Online Inner-Child Workshop
6 hours of explanation, guidance and meditations to connect you with your Inner Child.
Inner Child Work is an incredible form of self empowerment; one can take charge of our lives, make changes to our long held beliefs, heal past traumas, habit patterns and self sabotaging behaviours. Furthermore, understand ourselves on a deeper level and work with our emotions mindfully, rather than suppressing them.
Everyone has the capacity to connect to their inner child and this will be demonstrated from the onset and built up over the sessions until the workshop is complete. It will provide the foundations to continue working by yourself on your onward journey, and we'll always stay connected, support and guidance available at every step.
Having worked in therapeutic based settings of counselling, psychoanalytical and trauma informed circumstances, I have a diverse toolkit and flexible approach to integrative healing. Experience working with those of severe traumas (PTSD, childhood violence and abuse), depression, anxiety, dissociative tendencies and eating disorders, I have had the opportunity to develop personal and gentle therapies that empower individuals to self-heal.
Since graduating with an MSc in Investigative Forensic Psychology in 2012 I have been avidly interested in developing therapeutic practices that enable others to understand frameworks, allowing for individuals to self-realise paths towards their own healing. It has been very important for me to focus on techniques that participants can pass on whilst understanding their own contribution in healing others. I invite you to review the testimonies and other information to understand more about integrative therapy practices.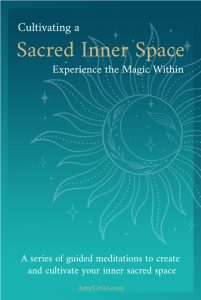 Free Sacred Space Meditation Mini-course
3 guided meditations to help you:
Create the meditation environment
Explore the introspective realms
Gracefully receive
For access to the course book and audios, please sign up to the mailgroup and confirm your subscription.
We deploy all efforts to protect the private nature of your personal information. Since we collect information about you using our website and through our email communication, we feel that it is important that you understand how we collect and use this information. The below summarises our personal information collection practices.
Personal Information Collection
All personal information collected by Amy Grist is done so exclusively with your consent, by means of a form posted on our website, an email attachment, a diagnostic telephone conversation or a physical document given on your arrival. No information is collected automatically.
Use of your Personal Information
The personal information collected is only used by our team for the purposes defined at the time of the collection or a use that complies with these purposes. Physical documents are stored safely and we do not share your information with any third parties.
As mentioned above, we use your personal information to appropriately process your appointment requests and present you with the information you need to access.
Sharing of your Personal Information
We will not, in any circumstances, share your personal information with other individuals or organizations without your permission, including public organizations, corporations or individuals, except when applicable by law. We do not sell, communicate or divulge your information to any mailing lists.