Personal Yoga
Restorative & Integrative approach
From an early age I was an active child exploring the boundaries of flexibility and the desire to express myself through movement, dance, gymnastics, expanding to drama performances on stage in adolescence. I tapped into many rhythms, expressions and styles before settling into a yin yoga based practice that is gentle, restorative and nurturing, drawing on inspiration from Tai Chi, meditation and breathwork. A desire in me to share this practice naturally arose and I am grateful to witness its unfolding and share with the beautiful souls I've met along the journey so far.
My personal yoga practice has led me on a journey of transformation and continues to teach me lessons that contribute to the positive change in who I am and becoming. Movement is soulful, and as an individual who seeks deep connection with myself and others, I find peace and joy in moments of self and shared growth.
Providing one to one and small groups sessions I encourage heart opening trust, vulnerability and honesty with oneself during our time together. Guiding with energy and holding space for one to connect with their own natural rhythm I provide support for individual needs, whilst considering and bringing balance in group dynamics.
Guiding myself through intuitive led process and therapies I come from a place of openness, acceptance and compassion. This is woven into movement and my only desire is for a shared authentic experience together.
Let's see you stretch!
Yoga is a collaborative part of spiritual practice, yogis in India used the practice to open their joints and bone structures to identify blocked energies and emotions to process these 'sankaras' to be behaviourally free of their stored life experiences or traumas. To become totally purified one must explore the body both mentally and physically. When some of these blockages manifest they can bring pain due to trapped energy, yoga gently releases this energy and allows one to be comfortable in their body.
If there is any pain that you usually feel when meditating or sitting still, such as in the back or pelvis this is a sign that there is trapped energy that can be released, please talk to me about any discomforts that you have and I can advise the appropriate asana or exercise that you can practice once a day to ease the blockage.
Energy work is the name given to mentally process these blockages and this can lead to profound experiences that are sometimes referred to as kundalini energy, a soft and blissful sensation through your whole body, centered around the spine.
Foot opening is often necessary for people who have worn conventional footwear, as there are strong energy points in the palm of the foot which can become trapped and lock one out of the flowing energy field of the body. A short exercise every morning whilst still in bed can allow this energy to flow more and bring more sensation of energy to the person.If one cannot click the toes or the fingers this is also a sign of resistance in these areas and regular manipulation of these joints can bring more movement to the body, improving blood circulation and longevity to these most crucial areas of the body.
With mentally focused energy work, one can release severe back pains and anxiety (energy blockage in the solar plexus), leaving you more relaxed and less prone to an uncomfortable energy experience where you find it difficult to sit still or relax in comfort.
How best to learn personal yoga?
It would be a fair comparison to think of yoga in the context of language learning. Sure, you can take a one hour class each week and over the years you'll pick up a rudimentary understanding of the grammar and basic usage. If however, you immerse yourself within a rich culture of traditions, adapt your lifestyle slightly to bring the subject to mind more regularly and incorporate bits of practice here and there, then you're going to begin to feel the cultural effects growing around and inside you. Like a language you can practice what you like, repeating the same sentence over and over to master one small phrase, or wrestling with a sound that just doesn't want to come from your lips. This can be when one leg or one arm shows a limitation, due to an incident or a favoured posture has given a characteristic to one side of your body.
Another likeness of language learning is that demanding goals aren't often effective as much as an enjoyable and consistent relationship where you find yourself embodying the practice regularly with enthusiasm.
Personal yoga can begin as simply as sitting in your bed when you wake in the morning, finding an stable posture and reaching out in all directions, stretching to your toes or practising a cross legged position on the floor before resorting to the usual chair or sofa. You find the barrier between comfort and discomfort and at your own pace gently explore what's there.
What can I achieve with yoga?
Yoga is an incredibly holistic practice and is not simply a catalogue of asanas. Modern uses of yoga focus on the physical aspects so that is what I will cover here first. As stated, yoga gently pushes on our range limits, softening rigidity and increasing longevity. Yoga can reconnect you to your childhood subtlety and bodily exploration. You can see again what the sole of your foot looks like close to your face!
These achievements will take time and dedication, but a few years of practice can seriously rehabilitate the effects of office work and lack of motion range. Below is a student who began life as a gymnast and then worked in seated jobs for almost 20 years. It took 4 years to transition from the restrictive position in figure 1 to the relaxed half-lotus position figures 2 & 3 which can now be retained during 10 hour meditations.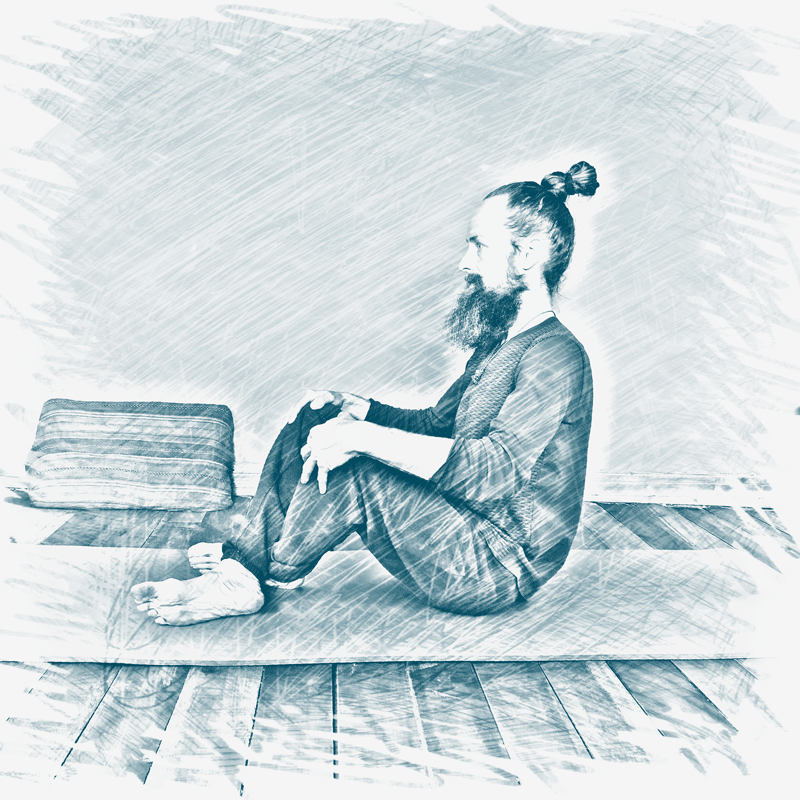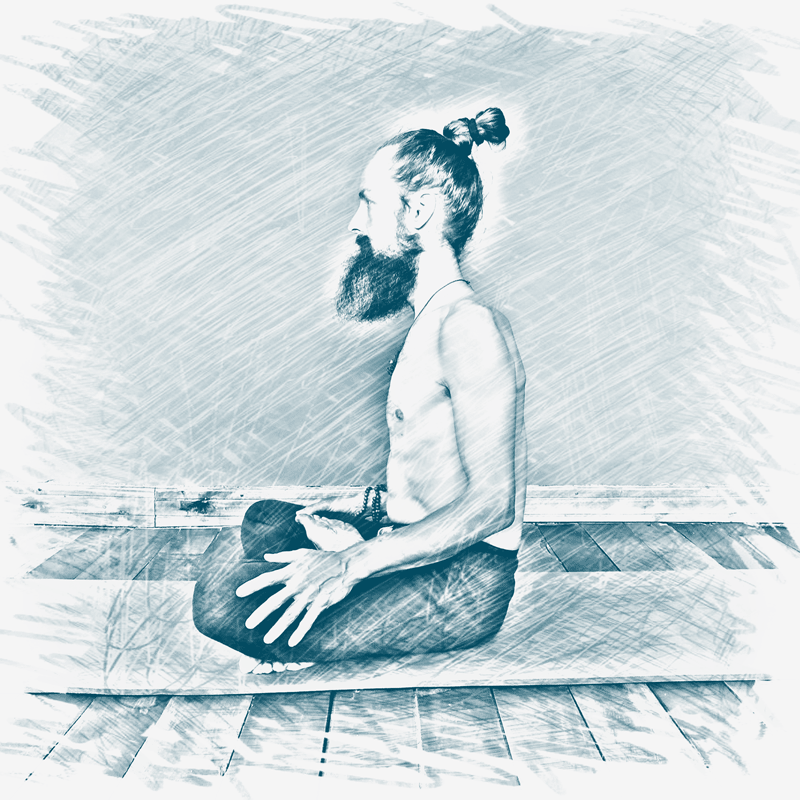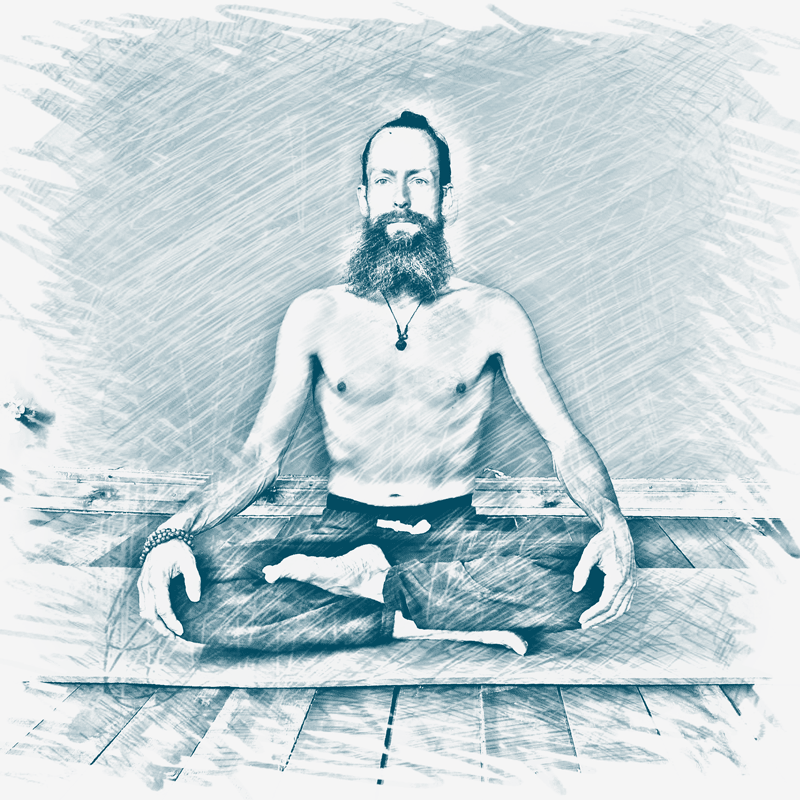 Testimonies from Yoga Students
Yoga is an integral part of my self-care routine and each week I just breathe and let Amy take me on a relaxing, yet recharging journey to myself!
So far, I have taken part in about 20 online yoga classes with Amy and each time has been special. I am not always able to join "real-time" because of the time zone difference and work commitments, so I treasure the ability to access the recordings in "my-time". Either way, it is magical to receive exactly what I need when I need it, whether a physical challenge, a message, an emotional release, or a revelation.
With a calming voice, clear directions and a joyous twinkle in her eye, Amy suspends time and guides the class from her heart… from the intuitive intention setting at the start, through the fun warm up and asanas, to the most delicious shavasana at the end!
Thank you, Amy! I look forward to so much more to come.
Amy is an excellent teacher and guide. I attended her online classes which always began with an explanation of what we would be focusing on that day. I was not sure how online yoga classes would work but I needn't of worried. Amy is attentive, very caring, calm and fully at ease with this medium.
Being a more mature lady I found I was unable to do some positions (weakness in wrists and knees). Amy is very understanding and supportive, offering alternative positions that I could do. Finished each class feeling relaxed and energised.
The pace of Amy's classes are perfect; she always makes sure everyone can follow in their own time and checks in regularly to make sure we are all doing OK. Her clear, soothing voice is just what you need to help you relax into the gentle pace of her yoga classes.
I can recommend some of the publications from Sri Aurobindo on his Integral Yoga. His ashram is still located outside of Pondicherry, on the East coast of India. His works are available for free and consist of questions and answers from students, a personal diary of his yogic practice between 1909 and 1927, essays on the Rig Veda and its mystic symbolism and more essays in Philosophy and Yoga.